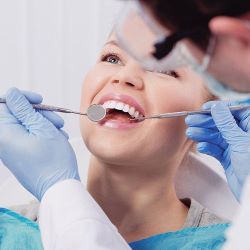 Patient empowerment directs the responsibility and power of our health to us. And with oral health, patient empowerment translates into self-care: opening a clean mouth to your dentist. When your mouth reflects a haven of healthy gums and teeth, the dentist is but a partner in our journey of preserving our pearls. In simple terms, this means that we will not be counted in the statistics of those who associate dental visits with anxiety and apprehension. 
According to the World Health Organization, patient empowerment consists of four components including the patient's understanding of his or her role, enough knowledge, adequate skills, and the presence of a facilitating environment. When these four parts are present in a dental visit, patient participation is encouraged and care is a collaborative effort, making it a mutually beneficial visit to both the dentist and patient.
As the holistic dentistry approach gains more and more recognition, so does the knowledge that oral health is absolutely interconnected to overall health. In fact, according to a news release from Delta Dental, a person's teeth have a far greater impact on overall health than most people realize and can often be linked to various health problems. With this philosophy, patient empowerment is also the key determining factor. 
Teeth go far beyond just being associated with dentistry. Each tooth displays the health of its related organ linked through the meridian system. Common practice in the ancient times was to inspect an animal's mouth before purchasing it, since the health of teeth reflect overall health. Tooth pain, too, may be a symptom of an unbalanced organ. Thus, reversing unhealthy teeth involves more than going to the dentist, e.g. nutrition.        
At Health Healing Energy Ph.D., our mission is to bring ancient healing advice to you, that are designed to rebuild, in the comfort of your home. Based on the holistic dentistry perspective that oral health is absolutely interconnected to overall health, we put a strong focus on bringing to you a comprehensive, do-it-yourself, do-it-at-home, oral care kit that introduces simple and effective self-care practices for better oral health via a cycled guide – "Breath-taking Mouth."
It's all about the "whole body approach" at Health Healing Energy Ph.D. We are passionate about your health and specifically your smile. The mouth drying advertisements of one-hour dental implants displayed with a metal screw in a tooth does not concur with our perspective of health. Instead, we want to see you radiate a smile that reflects a truly clean, happy, and healthy mouth.